The purpose of the Whittier Public Library Foundation is to help secure and maintain the funding required for the Whittier Public Library to realize its mission. It seeks to do that through private and public fundraising, and to serve as a conduit between the Library and the changing needs of a diverse community.
July is Matching Funds Month!
An anonymous donor has generously offered to match up to $100,000 in funding to every dollar you contribute.
Drive by and see how rapidly the construction is progressing. Soon we will have:
an expanded children's section
a well-equipped room for our Veterans Resource Center
a new comfortable reading area
designated study rooms
many more computers
a community room with 100+ seating capacity
What area do you want your contribution to make possible?
Truly, you make the difference! Together we are investing in our community and the generations to come that are dependent on the library for education, workforce development, and enrichment for us all.
Thank you for helping "turn the page to a new chapter" in our Central Library Renovation.
$15,001 and above - Benefactor
$15,000 - Publisher
$10,000 - Editor
$5,000 - Author
$2,500 - Copywriter
$1,000 - Illustrator
$500 - Book Lover
Contributions of $500.00 and over will be recognized on our donor wall.
Please contact us for more information and to explore the possibilities:
If you would like to donate by check, please make it payable to Whittier Public Library Foundation and mail it to:
Whittier Public Library Foundation
7344 Washington Avenue
Whittier, CA  90602
Virtual Author Series—happening five Wednesday evenings in June 2021.
For a tax-deductible $25 donation to the Whittier Public Library Foundation in support of the upcoming renovation of Central Library, you'll receive exclusive access to a LIVE zoom talk with one of five award-winning authors!
Donate $100 to the Foundation and get access to all five LIVE zoom talks – plus a chance to win one of five autographed books by the featured authors!
Learn as the authors reveal the story behind the stories
Be inspired as they share their thoughts on their work, motivations, and experiences
Participate in a Question and Answer
Featuring:
David L. Ulin is the author or editor of ten previous books, including The Lost Art of Reading: Why Books Matter in a Distracted Time and the Library of America's Writing Los Angeles: A Literary Anthology, which won a California Book Award. He is book critic, and former book editor, of the Los Angeles Times.
Tom Zoellner is a New York Times bestselling author of eight nonfiction books. He teaches at Chapman University and Dartmouth College. A former reporter for the San Francisco Chronicle, he is the politics editor at the Los Angeles Review of Books.
His latest book is The National Road: Dispatches from a Changing America – from the offices of struggling small-town newspapers to the adult film sets of California: Tom Zoellner takes to the highways and byways of a vast land in search of the soul of its people.
He will be talking about "Finding Beauty in Everyday America". "America used to be a country of motion but the remaking of the economy has resulted in fewer moves than at any point in the last seventy years, and Covid has put a damper on most leisure travel. What does it mean to be stuck at home and is it possible to find variety and beauty in a place you've known for years?"
Gustavo Arellano is a columnist for the Los Angeles Times. He previously worked at OC Weekly, where he was an investigative reporter for 15 years and editor of six, wrote a column called "!Ask a Mexican!" and is the author of Taco USA: How Mexican Food Conquered America. He currently hosts a daily news podcast "The Times: Daily news from the L.A. Times" "that will bring you the world through the eyes of the West Coast".
Molly Knight is Senior Staff writer for the Athletic. A fifth generation Angeleno, Molly developed a fanatic love of baseball and the Dodgers. At the age of seven she would rattle off baseball statistics to anyone listening.  She grew to become a contributing writer for ESPN from 2008-2014 when she left to write her book The Best Team Money Can Buy: the Los Angeles Dodgers Wild Struggle to Build a Baseball Powerhouse.  It became a bestseller within 10 days of publication and changed her life.  As much as she loves baseball, she's raised a pet dog which hates baseball.
Lisa See is a novelist, biographer, and community leader. Her books illuminate the strong bonds between women and her deeply researched, lyrical stories about Chinese characters and cultures. Her newest book The Island of Sea Women is about free-diving women of South Korea's Jeju Island, selected by Barnes and Noble for the March 2019 Book Club.
Register at http://www.whittierplf.org/authorseries to reserve your spot
Thank you to all who contributed to the Beam Signing! It was a huge success! We welcomed over 100 people who signed one of our five columns and heard countless stories of what the library meant to them!
Latest Past Events
Come and learn 3D design/printing basics. Zoom registration, a personal Tinkercad, and a Gmail account are required. Information about creating an account will be emailed to registrants. For Teens and Adults.…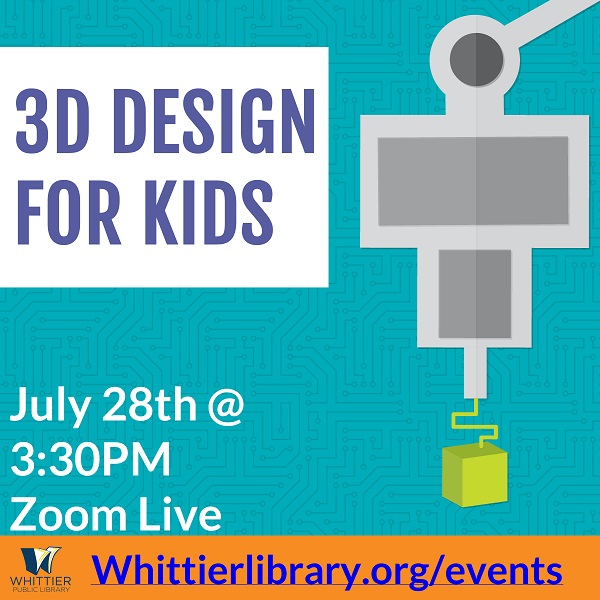 Come and learn 3D designing/printing basics. Zoom registration, a personal Tinkercad, and a Gmail account are required. Information about creating an account will be emailed to registrants. For 5th-8th graders. This…