Whittier Reads is an annual citywide literary event that encourages members of the Whittier community to read the same book at the same time and then discuss it in book groups and participate in special programs which are offered at our Libraries.
Whittier Public Library Foundation has been the sponsor for this community wide program from its inception since 2004 and has provided funding for the implementation of this program.
The Whittier Public Library in partnership with the Foundation will offer a variety of programs throughout the month of April for the community.
The selection for the 2020 Whittier Reads is "Dear Los Angeles", edited by David Kipen.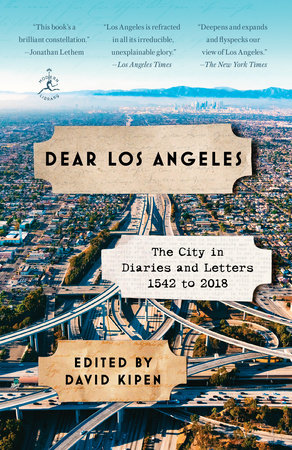 A rich mosaic of diary entries and letters from Marilyn Monroe, Cesar Chavez, Susan Sontag, Albert Einstein, and many more, this is the story of Los Angeles as told by locals, transplants, and some just passing through.

"Los Angeles is refracted in all its irreducible, unexplainable glory."—Los Angeles Times

The City of Angels has played a distinct role in the hearts, minds, and imaginations of millions of people, who see it as the ultimate symbol of the American Dream. David Kipen, a cultural historian and avid scholar of Los Angeles, has scoured libraries, archives, and private estates to assemble a kaleidoscopic view of a truly unique city.
 
From the Spanish missionary expeditions in the early 1500s to the Golden Age of Hollywood to the strange new world of social media, this collection is a slice of life in L.A. through the years. The pieces are arranged by date—January 1st to December 31st—featuring selections from different decades and centuries. What emerges is a vivid tapestry of insights, personal discoveries, and wry observations that together distill the essence of the city.
 
As sprawling and magical as the city itself, Dear Los Angeles is a fascinating, must-have collection for everyone in, from, or touched by Southern California.
Copies of Dear Los Angeles are available for checkout or for sale at the Whittier Public Library.
David Kipen was born and raised in Los Angeles. He founded the nonprofit Boyle Heights lending library Libros Schmibros in 2010. Former literature director of the National Endowment for the Arts, book editor/critic of the San Francisco Chronicle, and contributor to multiple volumes of California cultural history, Kipen teaches full-time in the UCLA writing program. A familiar voice on public radio, he also serves as book critic for Los Angeles magazine and is critic-at-large for the Los Angeles Times.
Thursday, April 2:
Lunch @ the Library -[topic] - [location] @ [time]
Wednesday, April 8:
Scott Michaels of Dearly Departed Tours - [topic] - [location] @ [time]
Wednesday, April 15:
Group discussion of Dear Los Angeles- [location] @ [time] (Author will not be present.)
Thursday, April 16:
Documentary film about Los Angeles - [location] @ [time]
Tuesday, April 21:
Presentation by David Kipen - [location] @ [time]
Dinner in honor of David Kipen - [location] @ [time] - Tickets: $[price] general public / $[price] for WPL Foundation members.
Wednesday, April 29:
Maps of Los Angeles - Presented by Glen Creason - [location] @ [time]